The neighboring houses were razed and at some point St. John's lancet arch belfry openings were filled in, but otherwise this gothic revival church in Iowa looks like it hasn't aged a day. Built in 1903, St. John's M.E. Church was designed by Clausen & Burrows, the architecture firm that defined turn-of-the-century Davenport. Frederick Clausen's background might be the most unexpected thing for me here - turns out he was from Southern Schleswig, part of Davenport's weirdly enormous Schleswig-Holstein German population.

From 1842 to 1930, more than 70% of all immigrants from Germany to Scott County came from Schleswig-Holstein, to the extent that the city had a "Society for Veterans of the Schleswig-Holstein War of Liberation" (the Davenport Vereins der Kampfgenossen aus den Schleswig-Holstein'schen Befreiungskriegen).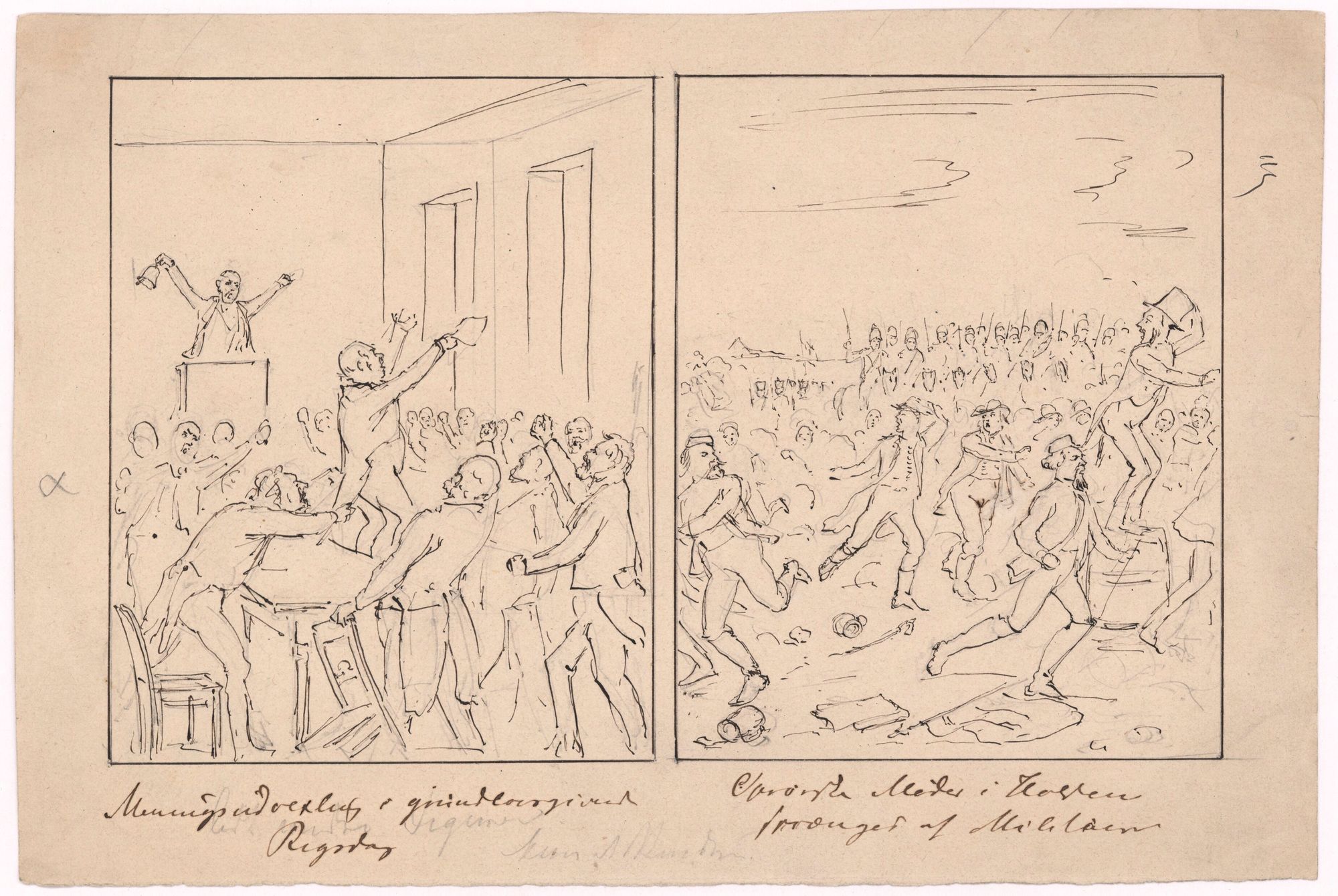 The Schleswig-Holstein question vexed European elites for decades, as Lord Palmerston famously quipped, ""Only three people have ever really understood the Schleswig-Holstein business – the Prince Consort, who is dead – a German professor, who has gone mad – and I, who have forgotten all about it". The Danish king ruled both duchies, but personally, as Duke—the duchies were not part of Denmark. As the tumult of 1848 swept over Europe, Holstein, entirely German, and Schleswig, ethnically split but with a large German population, rebelled. They fought for independence from Denmark and deeper integration with the burgeoning German Confederation. Prussia supported Schleswig-Holstein while Denmark was supported by...literally everyone else, every major European power, who were desperate to maintain the status quo in a rapidly changing world.

Their rebellion crushed, a bunch of Schleswig-Holsteiners emigrated to the promised land of…Davenport, Iowa.
(foreshadowing the changing balance of power in Europe and Germany's rise, when Denmark provoked round two in 1864, the Germans crushed them, taking even the Danish-speaking parts of Slesvig.)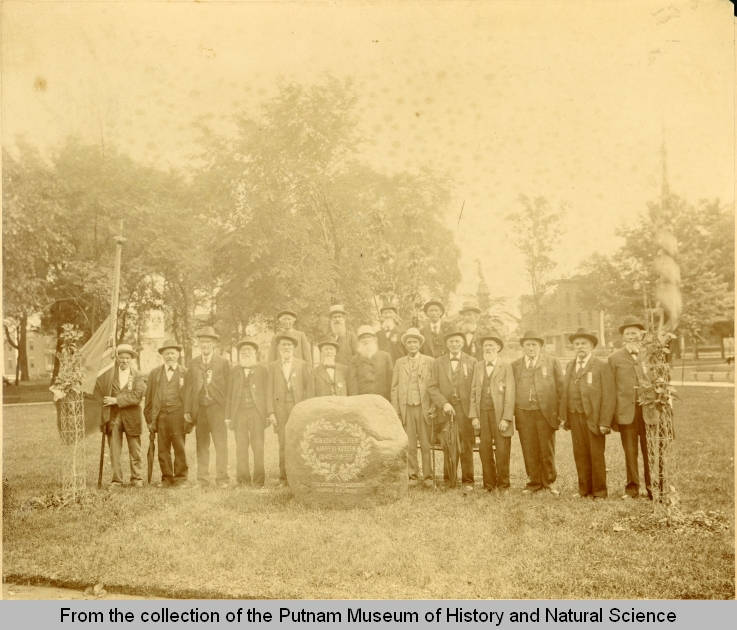 With a dad from Holstein and a mom from Schleswig, architect Frederick G. Clausen followed his Schleswig-Holstein neighbors to Davenport in 1867. One of the most German cities in the US, I imagine Davenport was the only city in North America that had a monument to German veterans of both the "Schleswig-Holstein War of Independence" and the Franco-Prussian War.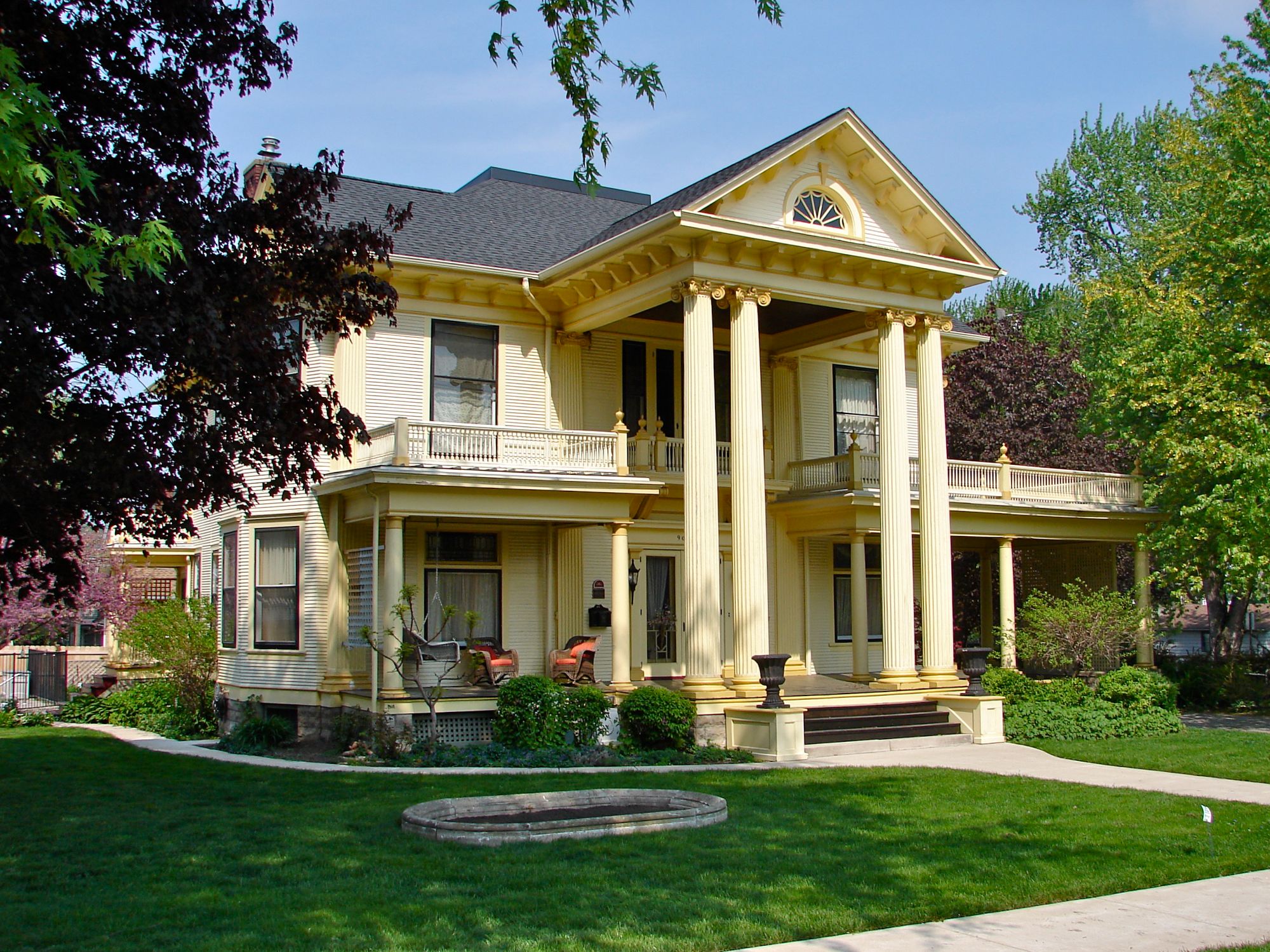 In Davenport, Clausen built a lucrative niche designing homes, commercial buildings, and—of course—Turner Halls for the German community in the 1870s and 1880s. Clausen's career really took off once he partnered with Parke Burrows in 1896 and as the river city boomed in the 1890s and 1900s—once again, right place, right time.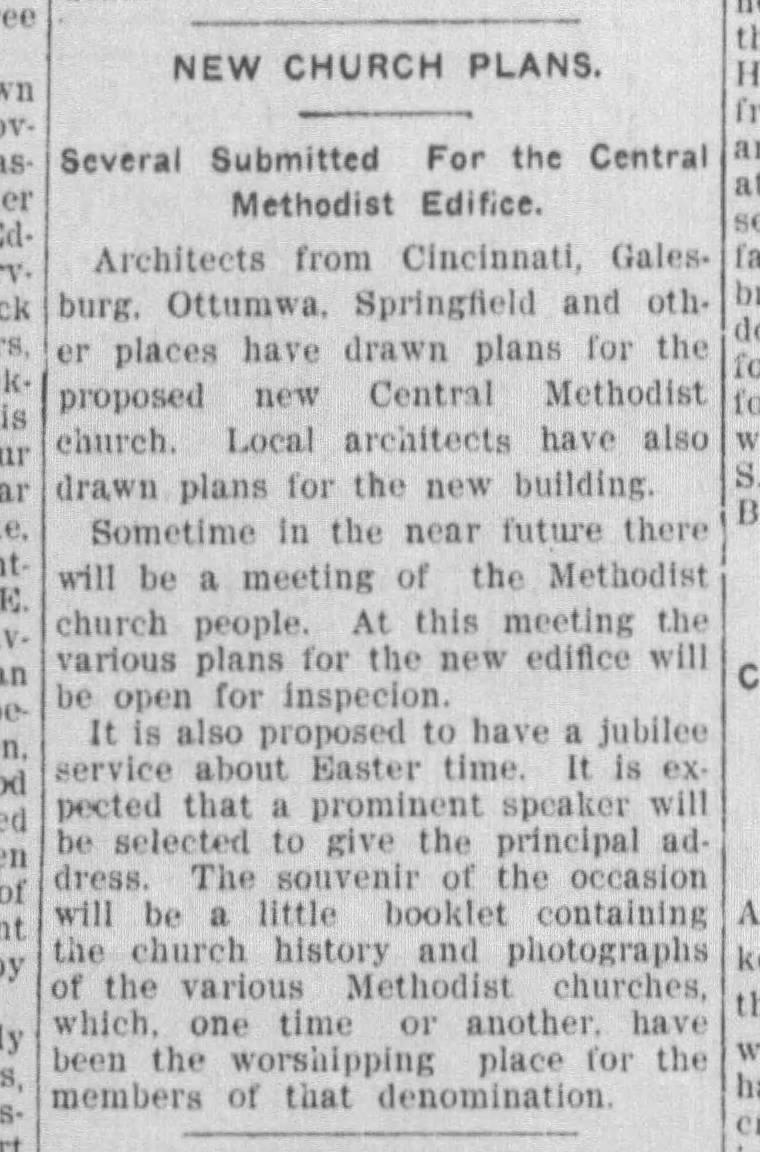 In the eight years they worked together, Clausen & Burrows did civic buildings, mansions, and department stores across Iowa, but this was their first church. Seven firms submitted proposals for St. John's Methodist Episcopal in 1902, and, despite their inexperience designing churches, Clausen & Burrows won. The deck may have been stacked in their favor just a little—they were the only Davenport firm in the running and the church's building committee saw their selection as a matter of hometown pride.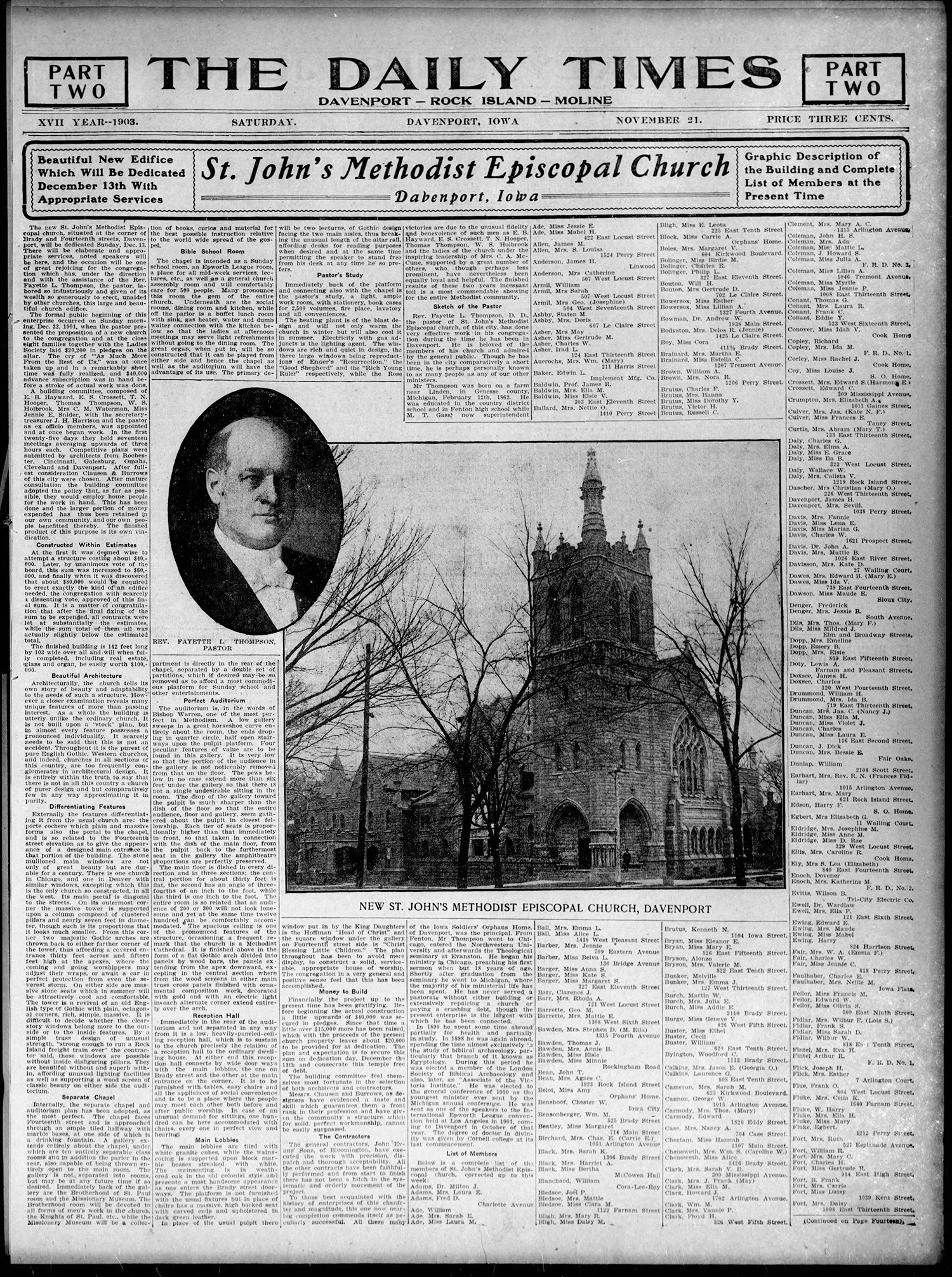 St. John's opened in 1903 and remains a Methodist church 120 years later. Surprisingly, a successor firm to Clausen & Burrows still exists as well, Davenport's Studio 483.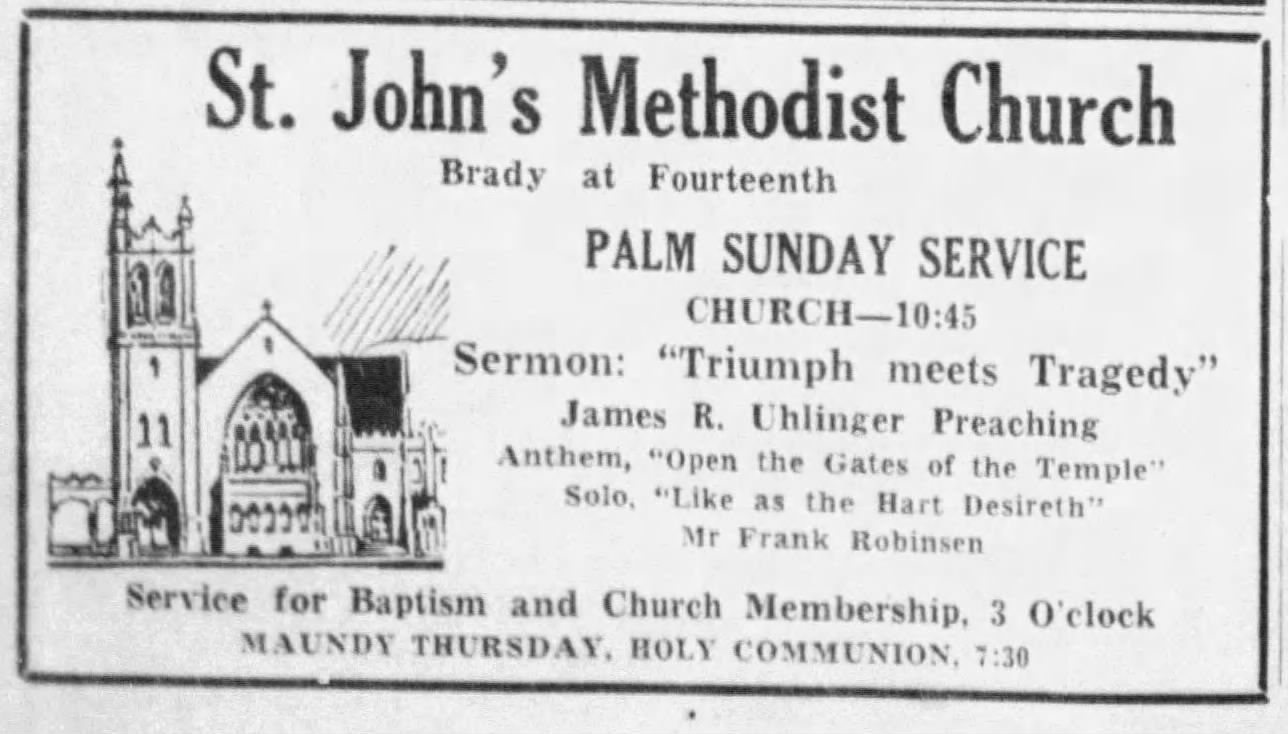 That the architect's Schleswig-Holsteiner background is one of the more interesting angles here reflects that, as the humorously frank National Register of Historic Places nomination put it, "this church building is associated with a moderately important protestant congregation in the community…However, it had no statewide religious role and had no major church leaders associated with it." ...Always good to remember that what we deem "historic" is socially constructed, and in the US (and likely elsewhere) it's a narrow class with the power to determine historic value. Like here: an attractive but otherwise pretty regular gothic revival church by a locally-important but (realistically) pretty insignificant architecture firm. But hey, it's got a limestone facade, a grandiose vibe, it looks old, and oh, a historically large, white congregation - boom, it's "historic".
Production Files
Further reading:
---

---