Two different fountains have been the fountain in Indianapolis' Fountain Square - but since 2010, they've shared the square. Well, sort of. The original "Lady Spray" came down in 1915 when - what else - a truck hit the power cord supplying the fountain's lights and pulled the fountain down, so this is a reproduction. Pioneer Family, by Indy artist Myra Reynolds Richards, replaced it in 1924. Richards' statue was itself shunted aside for a replica of the original fountain in 2009.
Fountain Square was one of Indy's oldest and most important commercial areas outside of downtown, the terminus for multiple streetcar lines, but highway construction in the 1960s and 1970s tore the neighborhood apart. A typical urban US trajectory: disinvestment, demolition, and displacement followed by rediscovery, re-investment (and more displacement).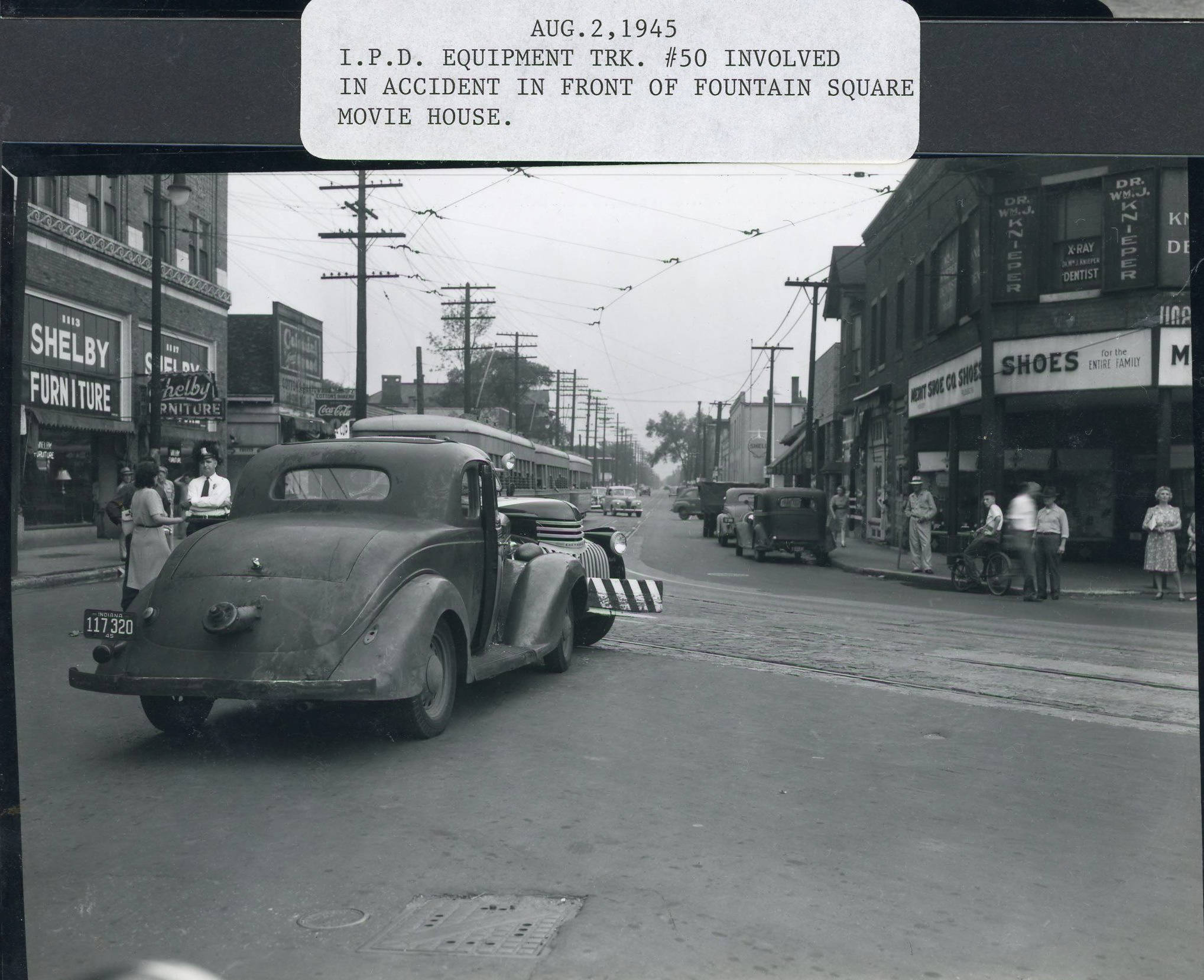 The former Universal Finance building, 1108 Shelby St., is a good stand-in for the whole neighborhood. Initially home to various shoe stores (Horuff Shoes, Thrift Shoes, then Merit Shoes), with a dentist above, it became an auto loan office (Universal Finance), and then a rental furniture center as Fountain Square experienced active disinvestment. Once banks' capital and government attention rushed back into the neighborhood they'd abandoned, the entertainment business moved in. Renovated in the 1980s and now with apartments above, over the last 20+ years, the building has been home to Santorini, Deano's Vino, Pioneer, and, currently, Wine Market & Table.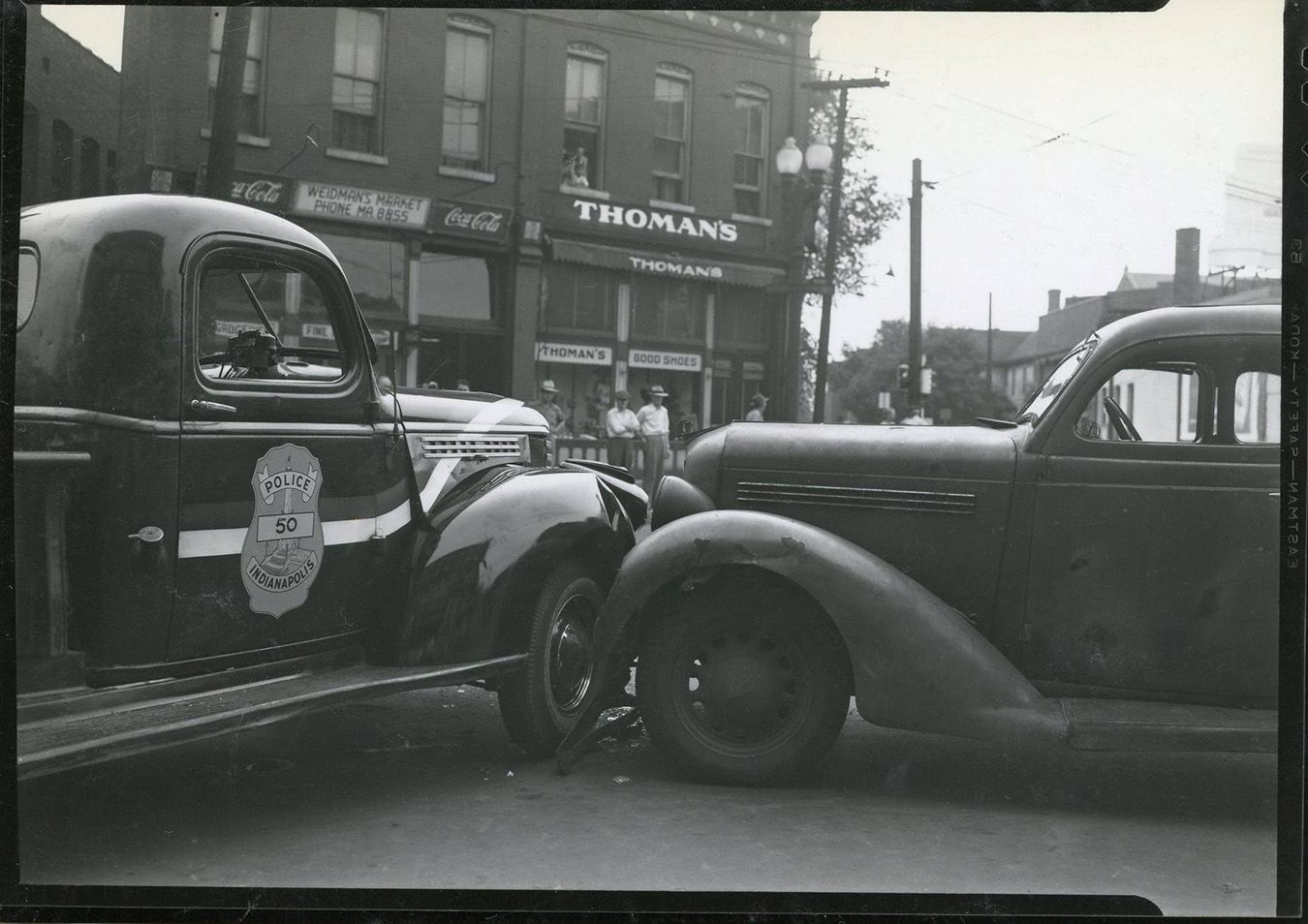 The building next door, built in the late 1800s, was once home to Thoman's Shoes (feels like this block of Fountain Square might have comprised a little cobbler district?) and Weidman's Market. It was still standing into the mid-1950s - it was probably demolished in the 1960s or 1970s as the highway displaced a huge chunk of the neighborhood's population. Today, it's a slightly scruffy little plaza.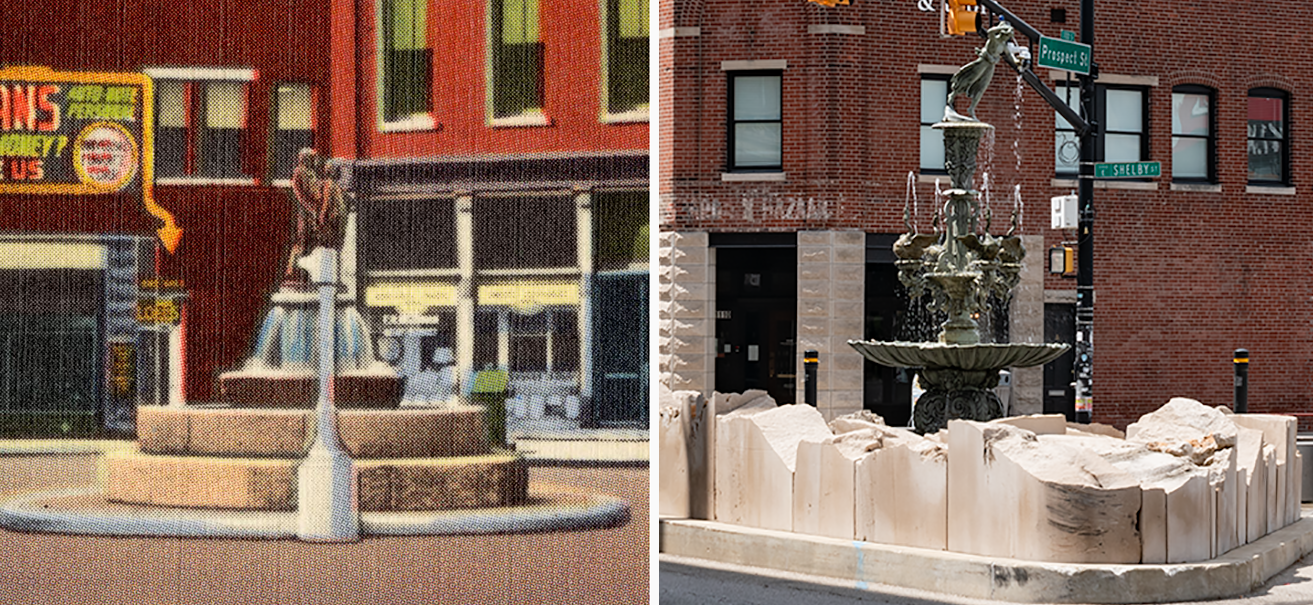 Onto the fountains: there's a lot of incorrect information out there about the original fountain that gave Fountain Square its name. First, it was installed in 1885 (not 1889). Indy saloon owner William Mohs lead the fundraising effort to build a fountain at the end of Virginia Ave., raising "subscriptions" from the neighborhood's German community to pay for it. The fountain was cast by New York's J.L. Mott Iron Works (not Robert Wood & Co., which was out of business by then). A stock fountain ordered out of a book, similar J.L Mott-cast fountains still stand in Court Square in Montgomery, Alabama; Fountain Square in Bowling Green, Kentucky; and Court Square in Memphis, Tennessee. By 1888, the "Fountain Square" name had gained some traction, but the eponymous fountain came down - not in a banner-related accident - but instead pulled down by a truck in 1915. Honestly, still pretty good for a utilitarian drinking fountain for horses and humans ordered out of a catalog. The replica, created by Robinson Iron, was dedicated in the center of the square in 2010 - it's visible in my present-day photo.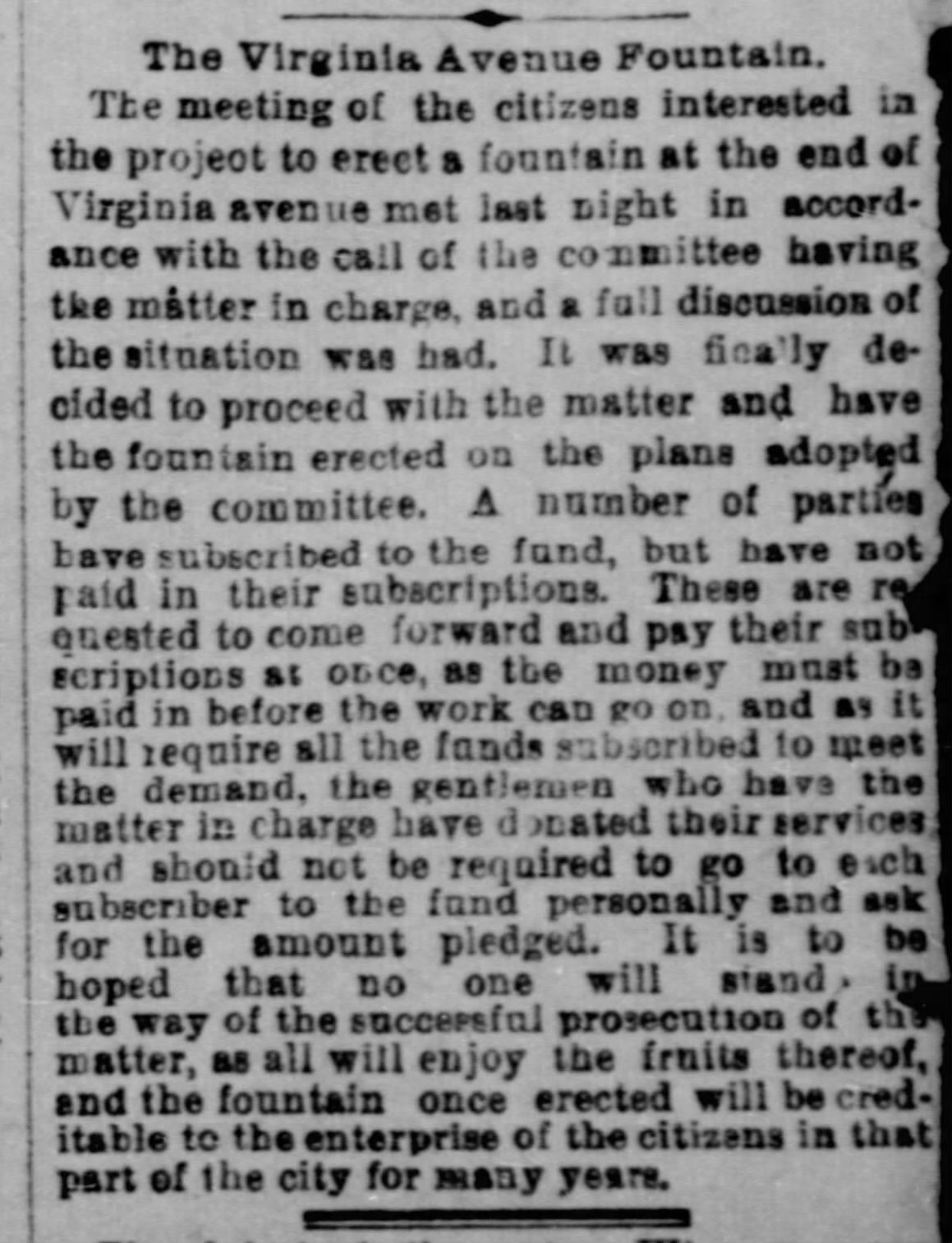 It took a few years, but after Fountain Square's original came down they did eventually replace it. Indianapolis native and Herron Art Institute instructor Myra Reynolds Richards' Pioneer Family was installed here in 1924. With Fountain Square rising in the world, this time the fountain was a commissioned sculpture by one of Indy's own, rather than something out of a catalog. It's also aged less poorly than I feared, given the name. Today, Pioneer Family stands only a few feet away from its original location, but that disguises a few moves in between. The statue was evicted in 1954, the city arguing that its removal would improve traffic (...that's not how traffic works, it didn't help). The statue stood in Indianapolis' Garfield Park for roughly 15 years before it returned to its original square in 1969. Moved out of the center of the intersection in 2009 to make room for the replica of the original fountain, it now anchors the plaza where the old commercial building on the right of the postcard once stood.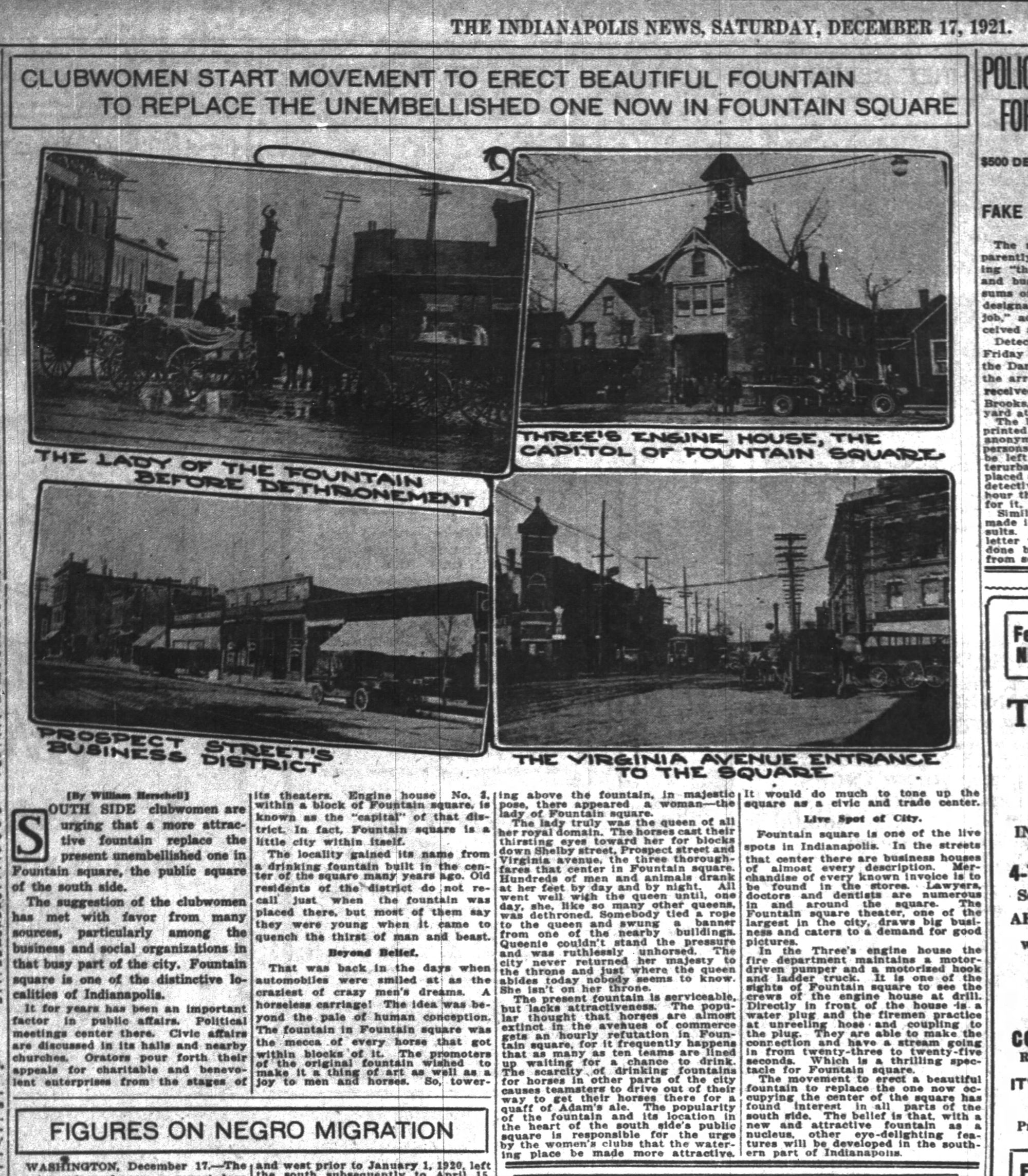 Production Files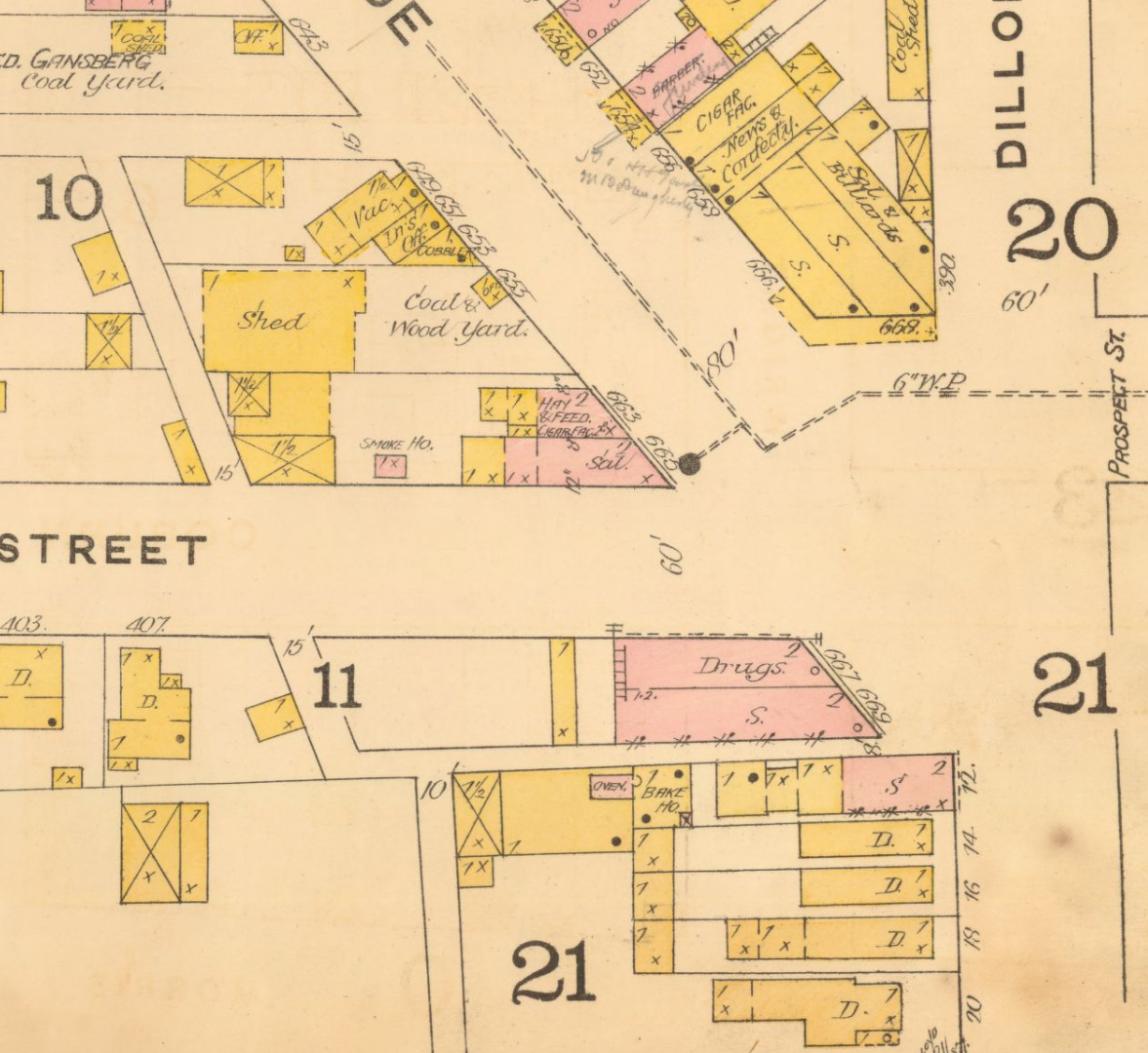 ---

---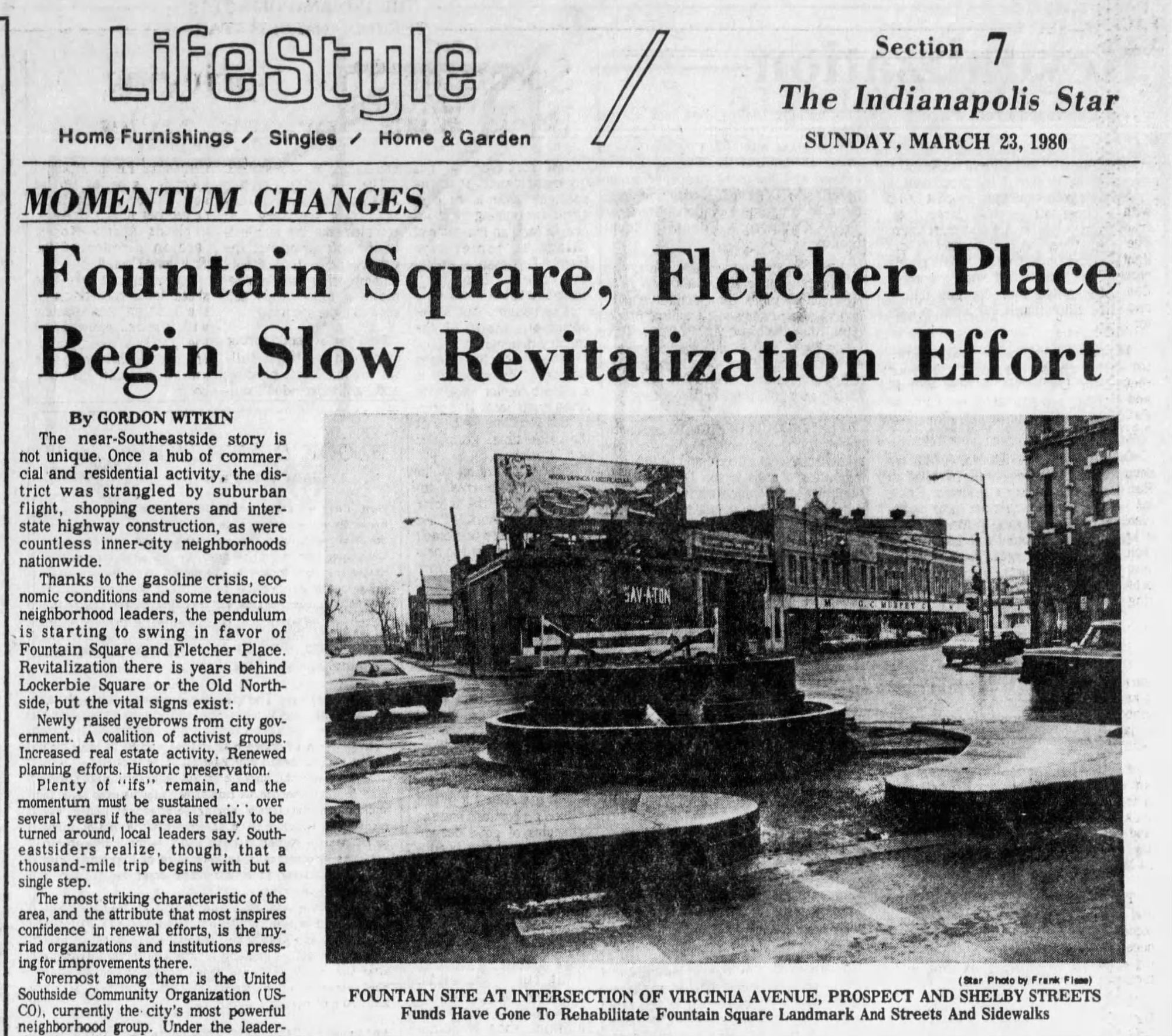 ---
Further Reading:
---