Freeport's federal building & post office was a cute mini Beaux Arts rectangle when it opened in 1903. I usually find this style pretty boring, but I actually quite like this one.

It was 'designed' by James Knox Taylor, the Supervising Architect of the US Department of the Treasury from 1897-1912. Taylor was the chief administrator of an agency that was building thousands of post offices all over the country at this time—he set the stylistic line and it was his name on the plans, but his real involvement here was likely minimal.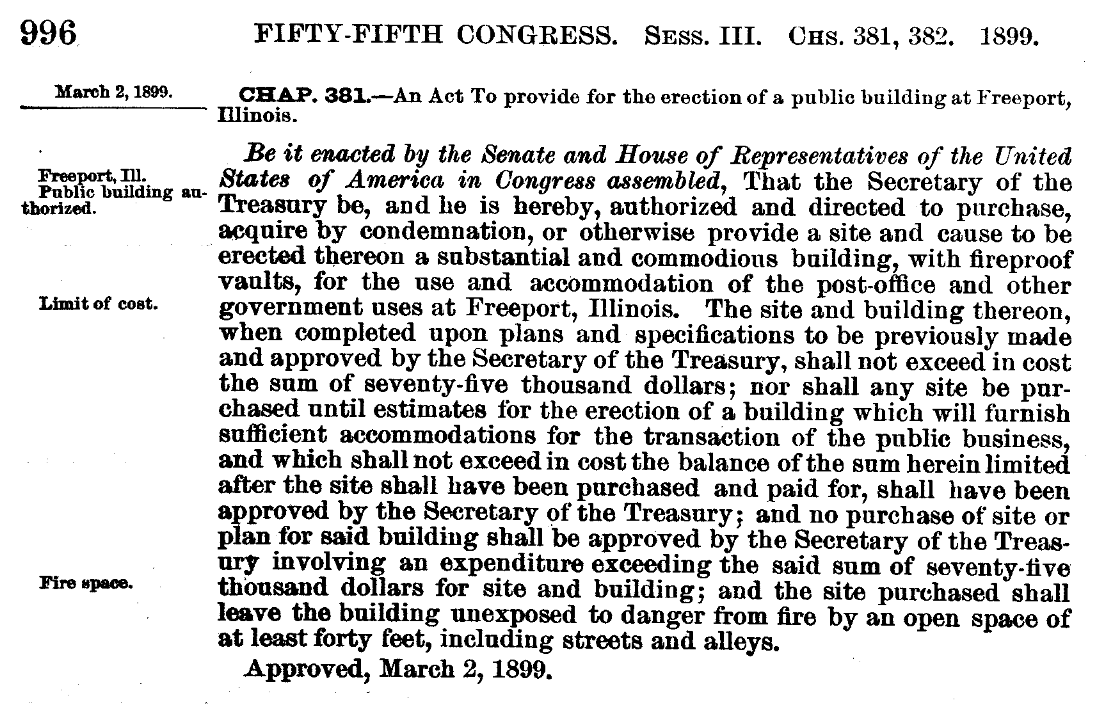 The post office was on the first floor (and remains there today), with the court facilities on the upper floors. When it opened, this building housed the U.S. Circuit Court for the Northern District of Illinois. Future commissioner of Major League Baseball and segregationist asshole Kenesaw Mountain Landis presided over the first court sessions here in April 1905.

The matching addition was built in 1932 after a stop-start seven year process—in retrospect, it strikes me as weird and deeply inefficient that Congress exerted (exerts?) this much control over individual little federal buildings all over the US. In this case, that meant that a filibuster slowed the expansion of Freeport's federal building, back when a filibuster was relatively rare. Illinois representative William R. Johnson successfully included an appropriation for an addition to the federal building in 1926, but a talking filibuster by Senator David Reed of Pennsylvania temporarily killed the bill.
An aside: Sen. David A. Reed launched a talking filibuster because he was angry about a campaign finance investigation by Senator James...A. Reed, of Missouri (no relation). Besides blocking an appropriations bill for Freeport's federal building expansion, David A. was a fascist and a member of the American Liberty League, whose Business Plot planned to overthrow FDR.

James A. Wetmore was the Acting Supervising Architect of the US Department of the Treasury by the time the addition began. In office from 1915 to 1933, Wetmore kept the "acting" in his title for his entire tenure, refusing to let it go because he wasn't an architect—the dude was apparently just a decent bureaucratic administrator with an interest in architecture.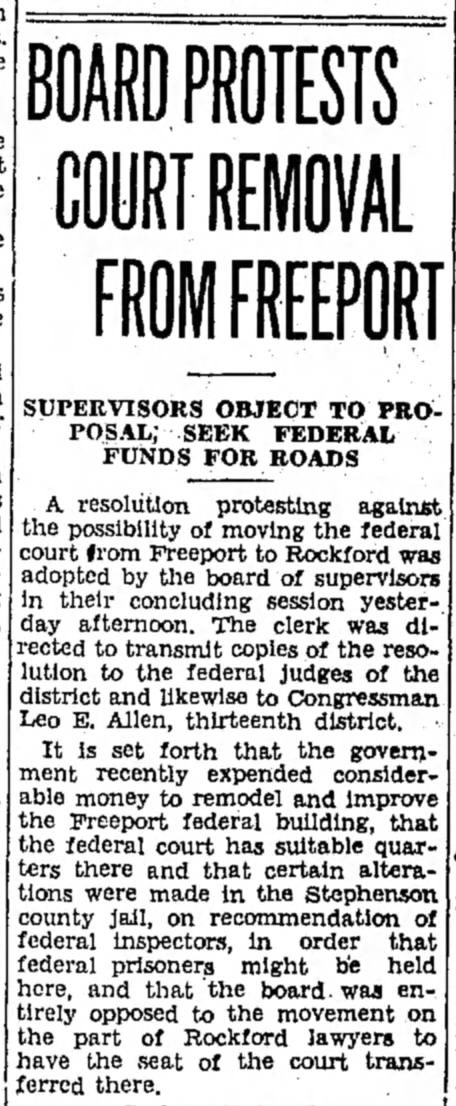 Freeport felt insecure about the courts' commitment to the city almost immediately after the addition finished in 1932, but the expanded federal building also held offices for an alphabet soup of federal offices - the ASCS, the SSA, the IRS, the SCS, and the FHA, among others. By the 1960s and 1970s, they'd start moving out.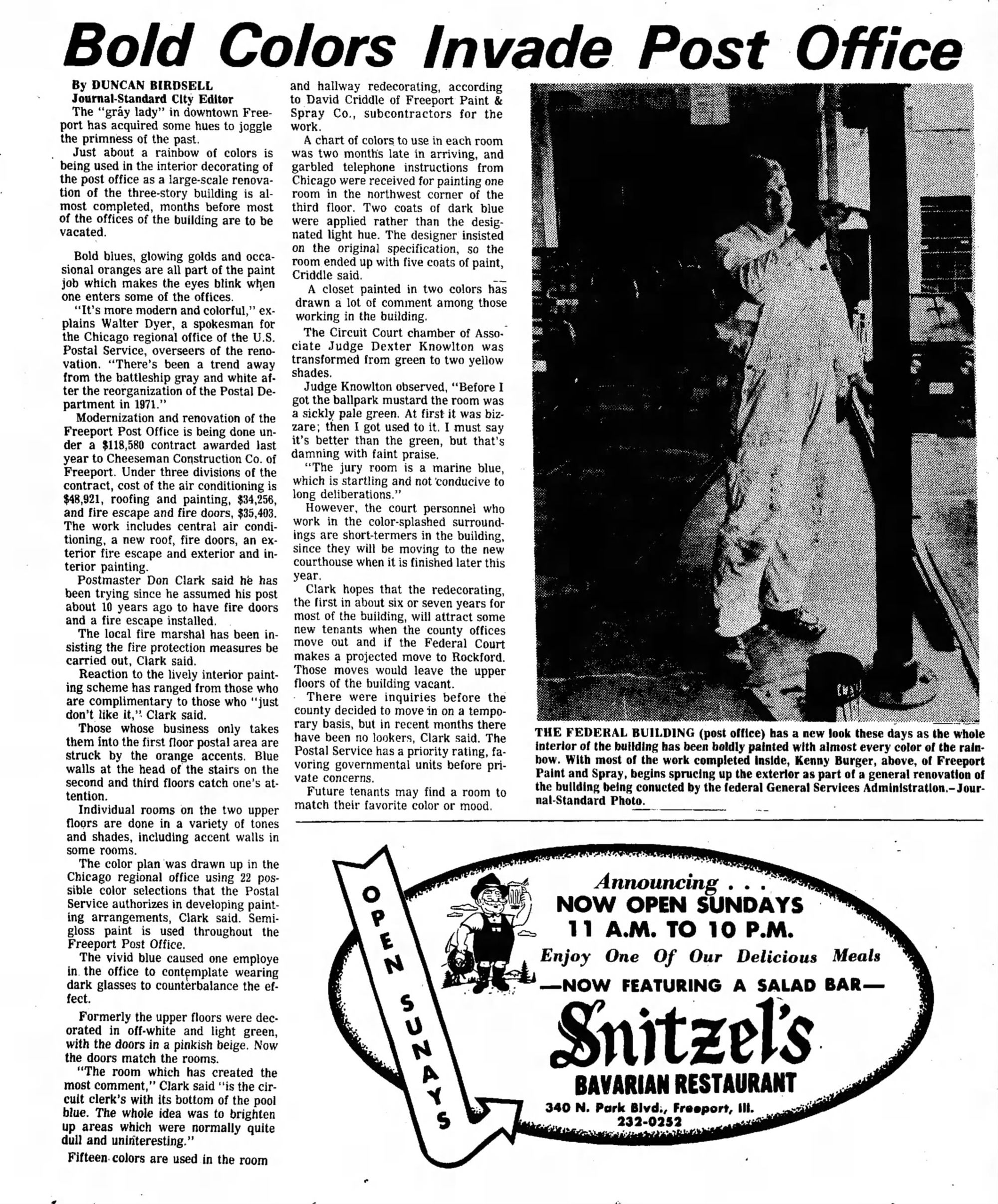 The GSA tried to spruce up the interior with bold colors, but the federal courts finally moved to Freeport's larger neighbor, Rockford, in 1977. While the upper floors are vacant today, preserved as courtrooms, the US Post Office is still located on the first floor of the building, 120 years after it initially opened.

Production Files